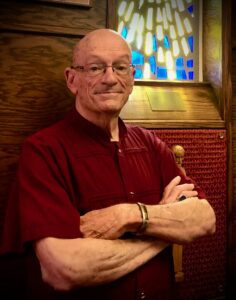 The Rev. Dr. Bruce W. Coggin, 82, of Fort Worth, died on September 24, 2023, in Fort Worth, Texas.
A funeral mass will be held on October 29, 2023, at 3 pm at Trinity Episcopal Church, 3401 Bellaire Drive So., Fort Worth, with Bishop Rayford High celebrating. Reception following. Clergy will vest and process.
Bruce was born in Lafayette, Louisiana, to Wayne and Jane Coggin. He held a bachelor's degree in Spanish, a master's degree in French, and a PhD in Shakespearean Studies. He attended seminary at Seabury-Western Theological Seminary in Evanston, Il, and was ordained to the priesthood in 1966. He served many parishes and held many diocesan leadership positions in the Episcopal Diocese of Dallas and the diocese formerly known as the Diocese of Fort Worth, now the North Region of the Episcopal Diocese of Texas. He was a gifted speaker, storyteller, lecturer, teacher, and minister for those whom he served for 56 years.
Coggin is survived by his three children and five grandchildren.
The family requests that memorials be given to 4Saints Episcopal Food Pantry in lieu of flowers or plants. Coggin served there often as a volunteer and would be pleased to continue to support their efforts to provide nutritious food to our neighbors.