Hi! Glad you are here! We are excited about what you will find here –  a God, a faith, and a people grounded in love.
We welcome everyone through our doors, whether you are a life-long Episcopalian, a seeker looking for a closer relationship with God, or a person who just feels something is missing in life. We offer you a place to worship God with others who also are questioning and wanting more.
The  Episcopal Diocese of Texas is an open Christ-centered community of congregations committed to a radical hospitality. We are committed to sharing the faith that has changed our lives. We are committed to welcoming ALL people. We have no barriers to participation because of race, gender, or sexual orientation. We are committed to embracing the diversity that God has created. We welcome seekers, embrace inquiry, and offer a wide variety of worship styles grounded and unified by the liturgy, the form of worship, in our Book of Common Prayer.
Because the North Region was previously a separate diocese, this area has a rich history ( here), or extol its visio.  (and we do here).  We're a progressive organization, and we find it much more relevant to describe the ways we bring Christ to a world in need of love. Our people feed the hungry, clothe the poor, care for the sick, welcome the outcast, teach the children, visit those in prison, and strive to love one another, because that's what Jesus tells us to do. We try to take our Christian beliefs and put them to work outside of where we worship. We invite you to any of our churches to join in worship and service.
And if you are interested in where we fit in with the wider church, here you go: The North Region of the Episcopal Diocese of Texas is part of The Episcopal Church, an international Christian church with more than 2 million members. A diocese is a geographical grouping of local congregations with a bishop as chief pastor.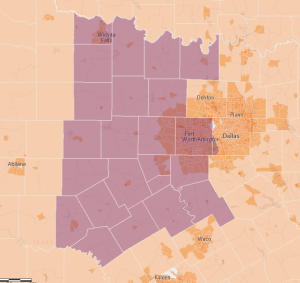 The North Region is made up of congregations in 24 counties in the north central part of Texas.  The diocese is all the diverse people who are part of our local congregations, not just the bishop and his staff.
The Episcopal Church belongs to the worldwide Anglican Communion, which is an international association of churches which have their roots in the Church of England and together have over 77 million members. The Anglican Communion is a part of the one, holy, catholic, and apostolic Church.
Please come and see.