In a Celebration of New Ministry, Bishop Scott Mayer will formally install the Rev. Alan Bentrup as rector of St. Martin-in-the-Fields, Keller, at 7 pm Thursday, May 5, 2022. A reception will follow. All are welcome. Clergy will wear white stoles.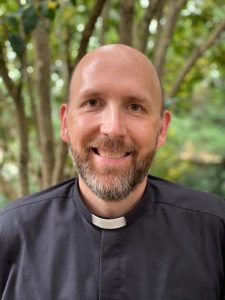 Bentrup was elected rector in June 2021. His first Sunday was August 1, 2021.
Before coming to St. Martin's, Bentrup served as Canon for Evangelism and Mission for the Episcopal Diocese of Upper South Carolina. He is the co-founder and curator of Missional Voices, a hub of conversation about innovative ministries and missional communities in The Episcopal Church. Previously Alan served as Associate Rector at St. Mary's Episcopal Church outside of Houston.
His service in the wider Church includes being as a Trustee for Voorhees College (an Episcopal-affiliated HBCU); a member of the Council of Advice for Episcopal Relief & Development; and on the planning and leadership teams for several Episcopal conferences and events. A graduate of Virginia Theological Seminary, Bentrup was the first student to earn the New Mission Practices concentration at VTS.