Diocesan Library – You are welcome to check out educational resources from the diocesan library, located in the conference room of the diocesan offices. Call 817-534-1900 for more information or to ask whether we have a particular resource you're looking for.
Check out Lesson Plans that Work, an excellent resource of the Episcopal Digital Network.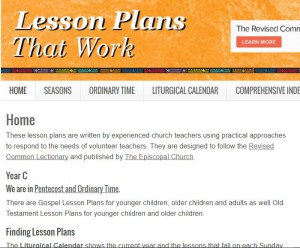 The Episcopal Church website's Library includes a variety of resources in several media. Use the "+Topics" menu to search by topic or look under "Resources" for bulletin inserts, a variety of documents, and links – you can then filter the list by key words to find something you're looking for.
You can also look under the "Ministries" tab to access resources produced by various ministries and departments within the church.
The Society of Saint John the Evangelist has some resources as well.
Resources by Age Group
Please let us know of others you've used that you recommend
Video Resources
Variety of videos, video series, and 'visual liturgy' from 'The Work of the People' site (fee)
Several video curricula in the Diocesan Library
Discovery Series (for adult inquirers)
Nooma videos by Rob Bell – the Diocesan office has 24 videos and a license. "a series of short films that explore our world from a perspective of Jesus. NOOMA is an invitation to search, question, and join the discussion."
Courses, seminars, etc.
Studying the Bible
Revised Common Lectionary – the cycle Episcopal churches and several other denominations use to read the Bible in a systematic way over a three year period.
The Bible in the Life of the Church
Various Translations
Bible in the Life of the Church
"I see this project as utterly foundational for our life together: I can hardly stress that enough." – Archbishop Justin Welby
Bible in the Life of the Church (BILC) is a toolbox of resources and materials related to studying the Bible developed for use across the entire Anglican Communion. Click the link above to access the materials, which are grouped by type (what kind of resource is it?), by topic (what is it about?), and by audience (who is it for?).
Translations
Parallel and Interlinear study tools
Manuscripts
Topical Studies
Creation Care
Sacraments
Episcopal Identity
Dismantling Racism
More Justice Issues
Seasons of the Church Year